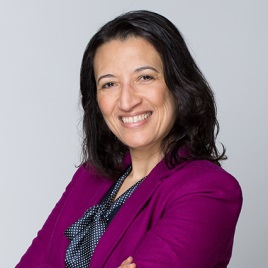 Mounia Benalil
Advisor, Research Development
École nationale de l'administration publique
Lachine, Quebec
Since March 2020, Mounia Benalil has served as Research Development Advisor at the École nationale de l'administration publique in Montreal. This position involves administering scientific research through the application of the policies and framework governing research funding in Quebec.
Previously, Ms. Benalil was Development and Strategic Initiative Advisor at PROMIS Immigration, an immigrant assistance organization. She has also worked as Researcher in charge of scientific development (immigrant entrepreneurship and experimentation in the Living Lab approach to immigrant entrepreneurship) for the Institut de recherche sur l'intégration professionnelle des immigrants at Collège de Maisonneuve and was Public Consultation Commissioner at the Office de consultation publique de Montréal, which conducts consultations on behalf of municipal authorities.
Ms. Benalil has more than 10 years' experience in applied research on municipal issues in various fields and with diverse stakeholders (Concertation Montréal, Ville de Montréal, Regroupement des jeunes chambres de commerce du Québec). In addition, she has conducted a number of research programs subsidized by the Fonds de Recherche du Québec – Société et Culture, the Social Sciences and Humanities Research Council and Science Applications International Corporation[SM2] .
Ms. Benalil holds a doctorate in intercultural studies and postcolonial theories and a master's degree in sociology of discourse from the University of British Columbia in Vancouver as well as a diploma in advanced studies and a bachelor's degree in English studies from Mohammed V University (Rabat, Morocco) and Hassan II University (Casablanca, Morocco).
Ms. Benalil's personal interests range from female economic empowerment and participatory democracy to business volunteering, sports and scriptwriting. Her professional interests demonstrate a passion for producing structure-creating projects for the community by applying knowledge in the social sciences to major societal challenges, notably diversity, inclusion and parity, as well as international mobility, participation by immigrants in territorial development, and open innovation. Ms. Benalil's recent achievements include devising the establishment of a living lab in entrepreneurship at PROMIS Immigration (2017-2019) and the production of a major survey titled Immigration, régionalisation et écosystème entrepreneurial au Québec for the Coalition of the Young Chambers of Commerce in Québec (2019).