The eleventh Canadian Leadership Conference will visit all Canadian provinces and territories in three phases:
Opening Plenary (June 3-5, 2022)
All 250 participants will meet in Ontario, for a three-day plenary session. Members will be addressed by high-profile Canadian and international speakers on key issues that provide focus and substance to the Conference theme. Sessions will be organized to prepare members for the study tours.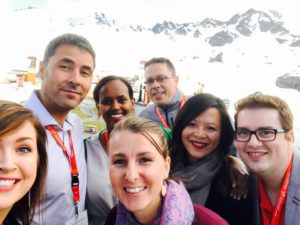 Study Tours (June 6 to 14, 2022)
Members will be divided into 16 "Study Groups". Each group will include individuals with highly diversified professional and cultural backgrounds, and each group will travel to a different region of Canada. Every effort will be made to ensure that participants tour an area of the country where they have had little previous experience.
The Study Tours are not conventional "visits" to factories and organizations. Each host organization understands at the outset that uninhibited individual and group face-to-face discussions with people at all levels are essential to the success of the visit. The locations for the tours are selected because of their potential usefulness as learning sites. They are, in essence, the Study Conference laboratories.
A typical day during the tour might consist of a plant visit in the morning followed by a meeting with the C.E.O. and senior management, an in-camera workshop with union leaders, a luncheon meeting at the local community centre with grassroots activists, a visit to a local school or hospital, and a dinner discussion hosted by the municipal council.
At the close of each day, participants meet with their fellow group members to discuss the issues that have been raised during the day. These lengthy sessions allow intensive exchanges of opinion among peers with vastly different backgrounds. The emphasis in these debates is not placed on finding solutions to the issues raised, but rather on increasing the members' personal exposure to the views and perspectives of others. The discussion and debate is always rigorous.
Closing Plenary (June 15 to 17, 2022)
All Study Groups meet again in Ottawa. Each group prepares a report reflecting their perceptions and insights on the complex concerns of the communities they have visited, and presents its findings to the Governor General and other members of the Conference.
The purpose of Study Group reports is to record members' reactions to the key issues highlighted by the Study Tours in the context of the Conference Theme and to comment on the lessons learned to the full Conference. These reports are not intended as criticisms or calls for action, rather they are intended to provide all Conference members with an opportunity to share some of the key experiences and observations of each Study Tour Group.