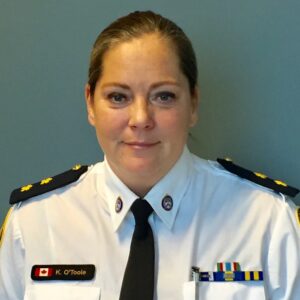 Kimberley O'Toole
Inspector
Toronto Police Service
Toronto, Ontario

Kimberley is an Inspector with the Toronto Police Service. In her 24th year of policing she is currently second in charge of the Toronto Police Service College. Kimberley was deployed to Afghanistan on a peacekeeping mission where she mentored senior police officials on human rights and gender issues.
She is a member of a roster of experts held by Justice Rapid Response which specializes in international investigators that monitor and investigate crimes against children that include war crimes and crimes against humanity. She is the current president of Ontario Women in Law Enforcement. Kimberley holds a Master of Criminal Justice where she leverages her volunteer positions to blend both the academic and policing world allowing her to mentor, provide leadership, empower and encourage students.