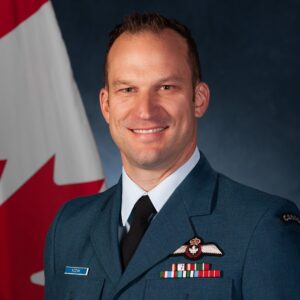 Kevin Kozak
Royal Canadian Air Force Pilot
Canadian Special Operations Forces Command
Ottawa, Ontario

Colonel Kevin Kozak is a Royal Canadian Air Force pilot who is the first ever Air Director for the Canadian Special Operations Forces Command in Ottawa. In over 24 years in the military, "Kozy" has flown and deployed on missions around the world and in every Canadian province and territory. He is a former commanding officer of 435 Squadron, a Winnipeg-based unit tasked with protecting Canadians through their 24/7 Search and Rescue and Air-to-Air Refueling mandates. Kevin is a huge fan of his veteran-wife, Paige, and her Ottawa-based clinic, Braceology Orthodontics. Together they have twin daughters, a toddler son and a "hero-dog" named Luna.