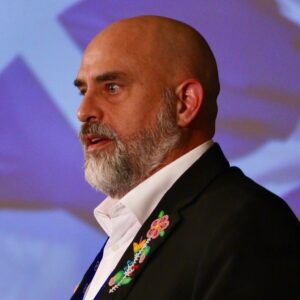 William Goodon
Minister of Housing and Property Management
Manitoba Metis Federation
Brandon, Manitoba

Will has built a career with a combination of community service & entrepreneurship. Partnering with his father, Will is an ownership partner in motel projects in southwestern Manitoba, with properties in Deloraine, Boissevain & Killarney. In June 2014, Will was elected to the Metis Government in Manitoba as a provincial board representative for the Southwest Region. President Chartrand has subsequently appointed him as Minister of Housing & Property Management.
Will lives on an acreage south of Brandon, Manitoba with his partner in life, Kelly, their two children, Hunter and Taylor, and two dogs, Wendy and Scout. He spends his days with his dad at the log cabin the two of them built in the Turtle Mountains, hunting & cutting firewood.