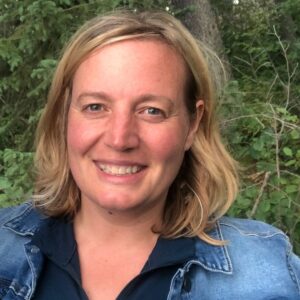 Kristie Derkson
Senior Policy Planner
Alberta Environment and Parks, Government of Alberta
Edmonton, Alberta
Kristie lives and works in Amiskwacîwâskahikan/Edmonton, Alberta. She is a passionate member of her community with her focus on environmental conservation and supporting a healthy and vibrant community for her two boys. Her employment with Alberta Parks has allowed her to be a nominee for the Premier's Award and a recipient for the Canada Parks Council's Agency Award of Excellence.
She recently graduated from the Canadian Parks Collective for Innovation and Leadership Parks Leaders Development Program, spent 4 years with the Deputy Minister Learn Committee and is now involved in the Disability Leaders Community of Practice. She contributes wholeheartedly to her community outside of work by sitting on the ALPAC Advisory Group and Forestry Protected Areas Subcommittees, the City of Edmonton Environmental Advisory Committee as a member at large, and both the Education and Community Outreach Committee and the Conservation Affairs Committee for the Alberta Chapter of The Wildlife Society.
She has been elected to the Alberta Society of Professional Biologists Board of Directors, the New Horizons Charter School for gifted learners Board of Directors, and as the Casino Fundraiser General Manager for Les Petit Amis Playschool.
In her spare time, she loves to read, garden, crochet, go camping, walk her dogs, sit on the pottery wheel, tend to her 16 chickens on her acreage, and drink a lot of coffee.