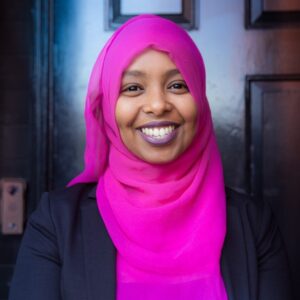 Samiya Abdi
Senior Program Specialist
Public Health Ontario
Scarborough, Ontario

Samiya holds a master's degree in Public Health and Graduate Diploma in Social Innovation and Systems Thinking. Her experience spans from co-creating local community engagement programs such as Aspire2Lead to co-founding international movements such as the Somali Gender Equality Movement and Famine resistors. Samiya has managed multimillion-dollar projects within the corporate sector as well as led government health initiatives across the province. Samiya is the winner of The Lori Chow Award for exceptional leadership. The winner of Woman of the Year Award, by The Federation of Muslim Women, and the MAX Woman of the Year Award.