[symple_column size="one-third" position="first" fade_in="false"]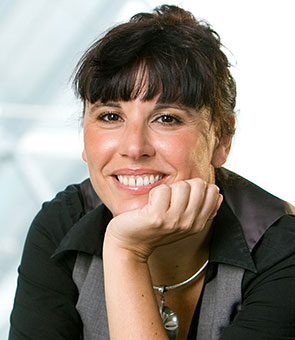 [/symple_column]
[symple_column size="one-third" position="middle" fade_in="false"]
Nathalie Bondil is the Director General and Chief Curator of the Montreal Museum of Fine Arts. She was appointed Chief Curator in 2000 and Director in January 2007.
When Ms. Bondil took over the helm, she initiated innovative programming with exhibitions designed, produced and circulated by the MMFA that have distinguished the Museum on the international scene. For example, she invited fashion to the Museum with the first retrospectives on Yves Saint Laurent and The Fashion World of Jean Paul Gaultier. The Gaultier exhibition was on a world tour to twelve museums and has generated outstanding media coverage and reviews. She also revamped contemporary art programming with Peter Doig in 2013 and opened the Museum up to world cultures with exhibitions like Peru: Kingdoms of the Sun and the Moon.
Ms. Bondil also introduced music to the Museum with a programme of original multidisciplinary exhibitions like Chagall: Colour and Music, Splendore a Venezia: Art and Music from the Renaissance to Baroque in the Serenissima Warhol Live: Music and Dance in Andy Warhol's Work; Imagine: The Peace Ballad of John & Yoko; "We Want Miles": Miles Davis vs. Jazz; Lyonel Feininger: From Manhattan to the Bauhaus. The Museum undertook the daring conversion of a heritage church decorated with Tiffany stained glass windows into a 462-seat concert hall. Inaugurated in 2011, the Museum's Bourgie Concert Hall presents some 200 concerts and welcomes 50,000 spectators each year.
[/symple_column]
[symple_column size="one-third" position="last" fade_in="false"]
With the addition of a fourth pavilion to the Museum complex in 2011, Ms. Bondil and her team undertook the study, restoration and reinstallation of some 4,000 works from the Museum's encyclopedic collection, from world cultures to Old Masters and Canadian and contemporary art. This "reinvented Museum" includes an impressive Pavilion of Decorative Arts and Design that was recently reinstalled and an expanded sculpture garden. This expansion project was made possible through a major campaign that raised $100 million.
In 2016, the Museum expanded again with a fifth addition, the Pavilion for Peace dedicated to international art and education, thanks to the major gift of Michal and Renata Hornstein's collection of Old Masters. It is the first legacy to the City of Montreal for its 375th anniversary. It also houses the Michel de la Chenelière International Atelier for Education and Art Therapy which reflects Nathalie Bondil's humanistic vision. Already in 2012, she had led the expansion of the Museum's new educational facilities for school groups and families – the Studios Art & Education Michel de la Chenelière – with the goal of doubling attendance, from 100,000 to 200,000 schoolchildren per year by 2017. This goal was reached after only 18 months of operation! Today, the Montreal Museum of Fine Arts ranks first among the most visited art museums in Canada.
[/symple_column]