[symple_column size="one-third" position="first" fade_in="false"]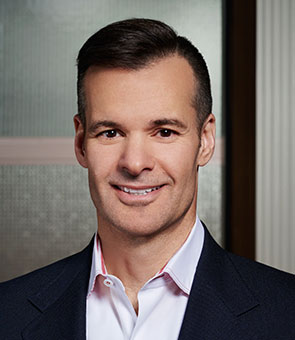 [/symple_column]
[symple_column size="one-third" position="middle" fade_in="false"]
Lino A. Saputo, Jr. is Chief Executive Officer and Vice Chairman of the Board of Saputo Inc. He holds a Bachelor of Arts in Political Science from Concordia University. He has been actively involved in the Company's operations for over 30 years. He first started working in Saputo's plants when he was only 13 years old, and nine years later became an Administrative Assistant. Through the years, Lino A. Saputo, Jr. has held several positions including Vice President, Operations and Engineering; Executive Vice President Operations; and President, Cheese Division (USA). In 2004, he was appointed to the position of President and Chief Executive Officer. In 2011, he was elected to the position of Vice Chairman of the Board.
Saputo has truly evolved since its founding in 1954. Today, Lino A. Saputo, Jr. oversees this prosperous Québec-based company comprised of 12,500 employees within 54 plants worldwide. Saputo is one of the top ten dairy processors in the world, the largest cheese manufacturer and the leading fluid milk and cream processor in Canada, the third largest dairy processor in Argentina, and the fourth largest in Australia. In the US, Saputo ranks among the top three cheese producers and is one of the largest producers of extended shelf-life and cultured products. Saputo products are sold in several countries under well-known brand names.
Known for their community involvement, Lino A. Saputo, Jr. and his family support multiple organizations. They also contribute to various projects and initiatives. Moreover, their commitment to sports, specifically soccer, is noteworthy.
[/symple_column]
[symple_column size="one-third" position="last" fade_in="false"]
In 2011, Amelia and her husband Lino A. Saputo Jr., founded the Amelia and Lino A. Saputo Jr., Foundation. This Foundation is dedicated to supporting a variety of organizations and causes which contribute to the betterment of the community for future generations.
Lino A. Saputo, Jr. is committed to Centraide of Greater Montreal. Over the years his involvement has been noteworthy. In 2012, he co-presided their annual fundraising campaign; he led the Food and Retail Trade Cabinet's fundraising efforts for the two following years, and most recently, he has accepted a 4-year mandate to preside the organization's Major Donor's Campaign.Moreover, Lino A. Saputo, Jr. sits on the Board of Directors of Transcontinental Inc. and acts as a member of their Human Resources and Compensation Committee. In addition, he is a Director on the National Bank of Canada's Board and is a member of their Human Resources Committee. He was also recently appointed to the Board of Directors of the Montreal Heart Institute Foundation and the Conference Board of Canada.
[/symple_column]