[symple_column size="one-third" position="first" fade_in="false"]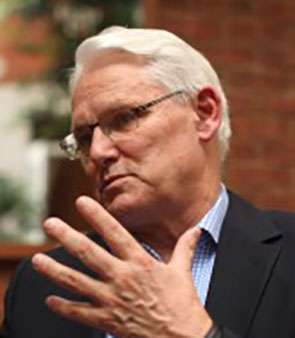 [/symple_column]
[symple_column size="one-third" position="middle" fade_in="false"]
An eminent British Columbian, Gordon Campbell served as Canada's High Commissioner to The United Kingdom and Northern Ireland (2011-2016), British Columbia's Premier (2001-2011) – elected in three successive elections – and Mayor of Vancouver (1986-93).
As Premier, Gordon's focus was establishing a strong, internationally-competitive economic foundation in British Columbia based on low taxes, reduced regulation, and major investments in education including the creation of seven new Universities. The Province had the best provincial job creation record in Canada during his term in office.
His Government made major investments in transit, bridges and other infrastructure that helped open Canada's Pacific Gateway to the world. He also played the leading role in opening Canada's Northern Gateway with major improvements to rail and port infrastructure including the Port of Prince Rupert's container facilities.
The Campbell Government's climate policy was described as "the best climate policy in the world" in The New York Times. As Premier he took historically important steps to build a new relationship with First Nations in British Columbia and Canada.
Campbell was elected Leader of the BC Liberal Party in September 1993. A position he held for more than 17 years.
Gordon Campbell also served as the 40th Mayor of Vancouver from 1986-93. During that time he led a City Council that set the foundation of Vancouver's world-renowned liveability including the redevelopment of False Creek's North Shore, the Burrard Inlet waterfront, the Fraser Lands and Vancouver's Yaletown residential neighbourhoods. His Councils also launched Vancouver's Urban Greenways program, a ground-breaking Clouds of Change policy, Vancouver City Dialogues, The Hasting Institute, City Caucuses, and the Regional District's Council of Councils
[/symple_column]
[symple_column size="one-third" position="last" fade_in="false"]
Campbell's City Councils established Canada's first AIDS in the Workplace strategy and provided same sex couples with full civic pension benefits. While he was Mayor, Vancouver protected dozens of Heritage Buildings and that led to the establishment of the Wosk Centre for Dialogue. He established Canada's first Children's Advocate to help plan the City around children's needs.
Prior to being Mayor, Mr. Campbell served for two years as a secondary school teacher in Nigeria (1970-72) where he built a new library and coached State Championship Basketball and Track teams. He worked as Executive Assistant to the Vancouver Mayor Art Phillips (1972-1976), and was General Manager of Development, Marathon Realty (1976-1981). Campbell founded his own company Citycore Development Corporation in 1981. Citycore was the developer of two Vancouver hotels. Campbell was one of the founding developers of the first phase of Whistler Village and was a leader in the Downtown Stadium for Vancouver a decision that helped shape Vancouver for the 21st Century.
Gordon Campbell is the author of a children's book: "Tuaq: The Only One."
He has two sons and five grandchildren.
[/symple_column]